Curb
Released
May 1996
June 2002 (reissue)
Recorded
1996
Length
46:25
Label
Shoreline Records / Select Records / self-released
Roadrunner Records (re-release)
Produced by 
Larry Anschell
Album chronology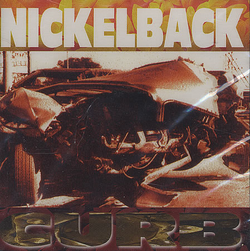 Curb's original cover
Curb is their first studio album. Originally self-released by the band in May 1996, the album was later reissued by Roadrunner Records in 2002, with a different album cover.
Track Listing
Edit
Little Friend
Pusher
Detangler
Curb
Falls Back On
Sea Groove
Just Four
I Don't Have
Personnel
Edit
Nickelback
Chad Kroeger – lead vocals, lead guitar
Ryan Peake – rhythm guitar, backing vocals
Mike Kroeger – bass
Brandon Kroeger – drums
Additional personnel
Ariel Watson – cello on "Curb"
Boyd Grealy – drums on "Curb"
Larry Anschell – production, engineering, mixing
George Marino – mastering
2002 reissue artwork personnel
Linda Kusnetz – creative direction
Mr. Scott – photography, design
Daniel Moss – photography
Ad blocker interference detected!
Wikia is a free-to-use site that makes money from advertising. We have a modified experience for viewers using ad blockers

Wikia is not accessible if you've made further modifications. Remove the custom ad blocker rule(s) and the page will load as expected.